The ladies over at Good Lesbian Books posted reviews for Sword of the Guardian and Branded Ann that I just came across today. Yay!!!! You guys should definitely check them out!
"Sword of the Guardian by Merry Shannon is fantastic. A fantasy set in a mythical kingdom with a weak king, a lot of political problems, and dark forces moving under the surface to take the throne, I loved this book. It's also far longer than I expected, was worth every penny, and I'd happily recommend to any reader of fantasy, whatever their personal sexual preferences. This book won an impressive sweep of awards and mentions, especially considering it's Merry Shannon's first published book (something that gave me a double take, as I would have sworn it was too good to be a first novel)…"
And,
"I'm impressed all over again by the believability of the writing, the ease one becomes immersed – the enormous amount of research the author has clearly done to create a natural seeming, accurate and mesmerising setting. The conflict between Ann and Violet is masterfully drawn, and I was constantly sympathising with each in turn against the other."
Go here for the rest of this one!
Also, I am in love with Good Lesbian Books' "The Muse of Lesbian Literature" poster: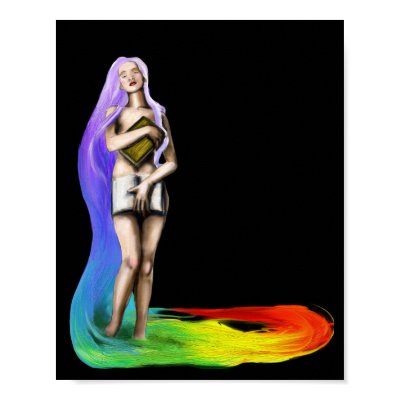 WANT!!!!!